In September 2022, WW Foundation took on the monumental challenge of conquering 'The National 3 Peaks Challenge' in aid of Wycombe Wanderers Sports & Education Trust, the charitable arm of Wycombe Wanderers FC.
4 of the Sports Participation team; Kirk Williams, Dan Moss, Ashley Lamb & Jason Carr swapped their football boots for walking boots in their pursuit of climbing up, reaching the summit and climbing down the 3 largest peaks in England, Wales & Scotland within 24 hours.
Ben Nevis is where they would begin their target of attacking the total walking distance of 23 miles (37km) with a total ascent of 3,064 metres (10,052 ft). The secondary part of this challenge was the time spent in-between climbs where the team would be driving 462 miles and trying to get as much food and rest as possible before attacking each mountain! However, after 23 hours and 38 minutes, the team made it to the bottom of Snowdon and were successful in conquering the challenge!
Without doubt, the challenge was an extremely tough one! But, don't take our word for it… The team themselves shared their thoughts and feelings upon completing the challenge…
Please note that only children that are eligible for free school meals will be able to access the course. A unique HAF code is required for booking – HAF codes are provided to children by their school, but for more information contact Buckinghamshire council on haf@buckinghamshire…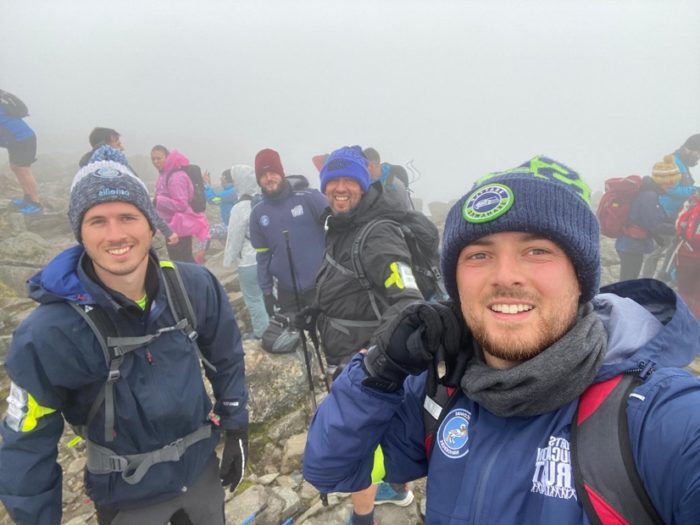 Coach Dan
"Travelling up the day before was a good idea as it was an early start up Ben Nevis. What better way to ease everyone into it than tackling 'Heart attack hill' first? Within the first few minutes you knew you were in for a tough day, given the speed at which we were tackling the ascent. Training aside, we all felt the mental side of the challenge was going to be the biggest hurdle. The joy of summiting Ben Nevis was short lived due to time constraints, so we began to make our way down at the speed of Mo Farah with the 75mph wind at our heels. However, the speedy descent was my cup of tea, the ascent was where I had to dig deep. On the coach we were told to eat a substantial meal or two and A LOT of water in order to replenish nutrients & have the energy to make it up Scafell Pike."
"A few substantial meals and a power nap later and we were heading up Scafell Pike. Around half-way we had to stop & wear our head torches before making the final push to the top via what felt like a never-ending staircase. This was, arguably, the toughest section of the entire challenge for me. At this point I was thankful I brought walking poles with me and they helped me push through what I can only describe as 'the wall'. I was in such a mental zone on that part of the ascent that I had no idea we had even summited until the summit was less than a few meters in front of me. A quick turnaround & we made our way down."
"We arrived at Snowdown and, in my mind, we had already gotten over the hardest part and nothing was going to stop us completing the challenge. The long, flat, winding path we started on helped the legs recover until the steep incline began. Shortly after, heavy rain & wind hit & back into the mental zone I went. A short hour or so scrambling up & over boulders lead us to the final staircase to the summit and upon reaching it, I felt a sense of relief and joy knowing the descent was next. We took the miners path down to a gravel path which signified 4.5-5km to go and at the end of the path we each had a traditional sprint finish before an overwhelming sense of achievement followed. Challenge completed in 23hrs 38 minutes. Great success!"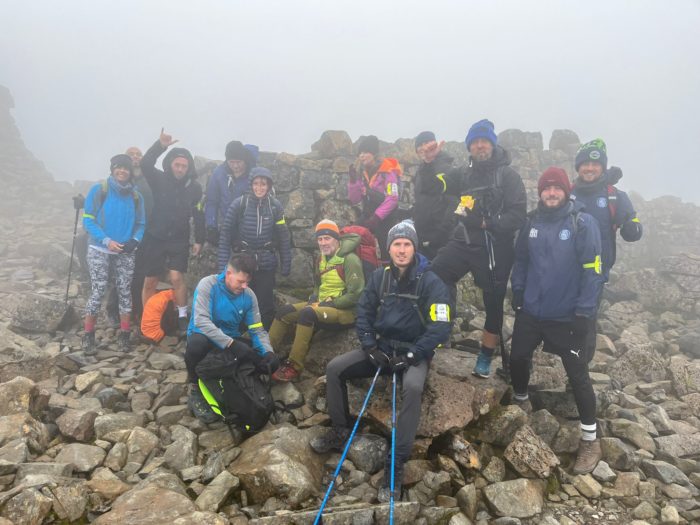 Coach Ashley
"Ben Nevis, Scafell Pike and Snowdon in 24 hours, what could go wrong?
Fuelled with excitement, Red bull and half the contents of Morrison's, we found ourselves at the foot of the first mountain, Ben Nevis. Having only summited one mountain (Snowdon) a few weeks prior, as part of our training I was a little apprehensive about what the next 24 hours of my life would look like. Head injuries, self-doubt and the song "We like to party" by the Vengaboys on repeat sums the experience up quite nicely.
The assent up Ben Nevis was largely uneventful with a few moments to catch the breath and to munch away on some well needed snacks and I was feeling positive about the day and the challenge. However, after a quick celebration on completing the first climb the realisation we were on a time limit set in. One of the group leaders set off on the descent, like Usain Bolt in his prime, to try save as much time as possible. Unfortunately, due to the wind and the loose surface she was blown into a rock and suffered a nasty head injury. Somehow, after a moment to clean her up and bandage the head she was able to carry on and lead us down the mountain in good time. With a sense of accomplishment and a head fully intact I was looking forward to the next climb.
Following a long drive, 20 minutes of sleep and lots of sweets I was ready for Scafell Pike. Knowing that this mountain was the most technically challenging and the majority of this climb would be in the dark I was excited to push myself not just physically but mentally. The climb itself was very smooth with a nice pace both up and down, a few slips and near misses on some slippery grass followed by the Vengabus tune to drive us down and before I knew it, we were on our way to the last climb of the challenge.
It was 4:30am and the wind and rain were there to greet us at the bottom of Snowdon. With 4 hours left to complete the challenge inside 24 hours the race had begun. The first hour of the climb was a struggle with the self-doubt mentally and my legs feeling the previous 2 mountains. Somehow, I managed to drag myself to the summit where I felt the pressure and stress of the challenge was lifted off my shoulders. It may be a long journey but in my head I knew I was going home. After a rapid scramble down the mountain, we had 40 minutes to walk 3 miles. On a fairly flat gravel path I started to think what time I could finish with. We crossed the line in 23 hours and 38 minutes with my left boot falling apart and my head like scrambled eggs on a Sunday morning. I had finished inside 24 hours. Buzzing was an understatement! Completing the biggest challenge I have ever taken on filled me with a great sense of accomplishment. However, after a hectic 24 hours it's safe to say I'll be trying to stay on flat surfaces for a while. A big thank you goes to my fellow climbers. Without their witty jokes and constant encouragement, it could have been a different story."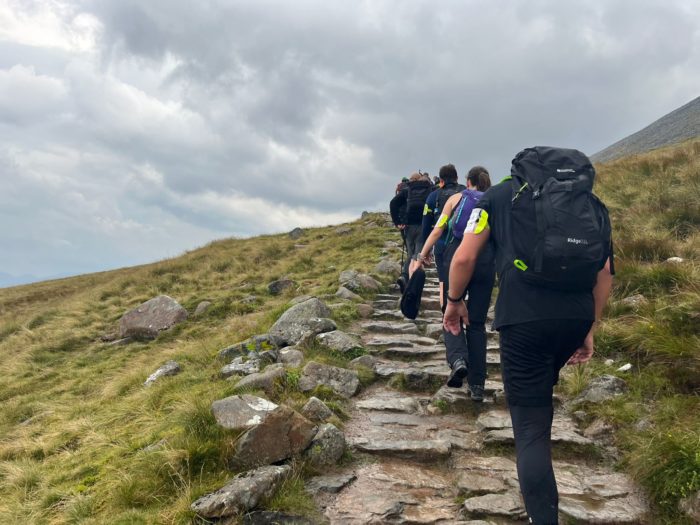 Coach Jason
"As we made our way up to Scotland, it started to dawn on me what we were about to undertake, especially when we arrived at Ben Nevis and was greeted with sight of "Heart Attack Hill" to start us off. The never-ending bends and rocks to climb made it very repetitive but the feeling when you eventually made it to the top was unbelievable and I know I perked up every time we made it to the top!
At times, going downhill was a challenge on the slippery rocks which involved a couple of falls onto my backside for me! Climbing a mountain in pitch black was really something and an experience to say the least! An interesting challenge was, after finishing the 2nd mountain, having to try and eat one of our "substantial meals" in the early hours of the morning when all you wanted to do was try and sleep. Another challenge was starting the final climb after very little sleep on the coach in between journeys and setting off at the bottom of Snowdon in the rain at 4:30AM! At times going up Snowdon I was questioning whether I could do it or not as the rain and wind battered us as we walked up. But, as a group, we kept each other going and whenever it got a little quiet a certain Vengaboys song was whistled away by someone.
The relief when seeing the finish line was heaven and I even managed somehow to do a sprint finish over the line to an incredible feeling of joy and sense of achievement; and doing it together as well all making it within in the time was a fantastic feeling!"