WW Foundation enjoyed a hugely successful Summer break this Summer holiday with over 600 children joining us to enjoy their football! We delivered our Holiday Soccer Schools in our 2 main hubs of High Wycombe & Beaconsfield, which were well attended as always, as well as welcoming in a new hub for our activities in Aylesbury, which we were delighted to see sell out way before the week had begun!
This Summer also saw us welcome many of the Wycombe Wanderers first team squad to our activities and we were joined by Sam Vokes, Jack Grimmer, Garath McCleary, Jordan Obita, Josh Scowen, Jordan Pattenden, Jack Young, Connor Parsons, Ali Al Hamadi & D'Mani Mellor throughout the holiday period. They were kind enough to give their time to speak with the children about life as a professional footballer, as well as sign autographs, take photos with the children, and in some cases, show them their skills as well! We thank the club for their continued support on our activities throughout the year.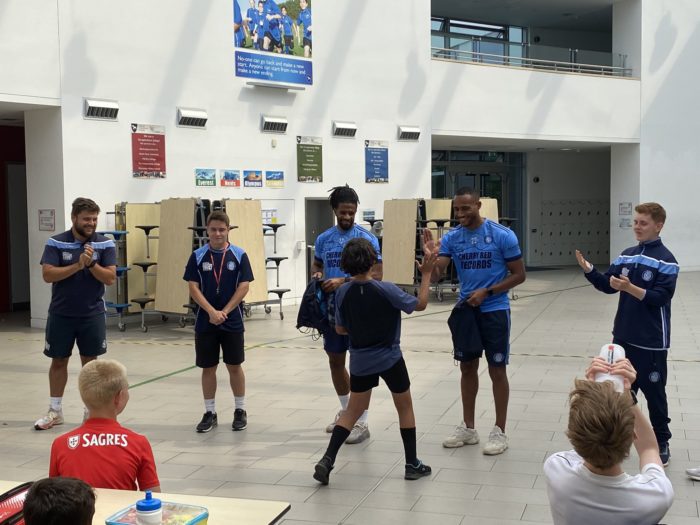 Of course, we think we had a great Summer. But don't take our word for it. Here's just a few of the comments from the parents on the Soccer Schools…
"Callum was over the moon that 2 Wycombe players came to his training camp in the summer!"
"Huge thank you to the team. My boys absolutely love going and request to go (rather than being persuaded to go). Good work guys!"
"My son attended during the very hot weather in mid August and I was impressed how well that was accommodated and managed."
"My two both had a great time and the coaches seemed great with both kids and parents!"
If you wish to join us for more of the same this October then please click here and secure your place ASAP!
Or, for more information, please feel free to contact Activity Programme Manager – Andy Homent on andrew.homent@wwfc.com